CronJ has worked with some reputed companies over these years and involved in a number of very challenging tasks. Case studies are available here, just to give you an idea about our expertise on each domain and how we can be part of your next move.
Global Experiment Platform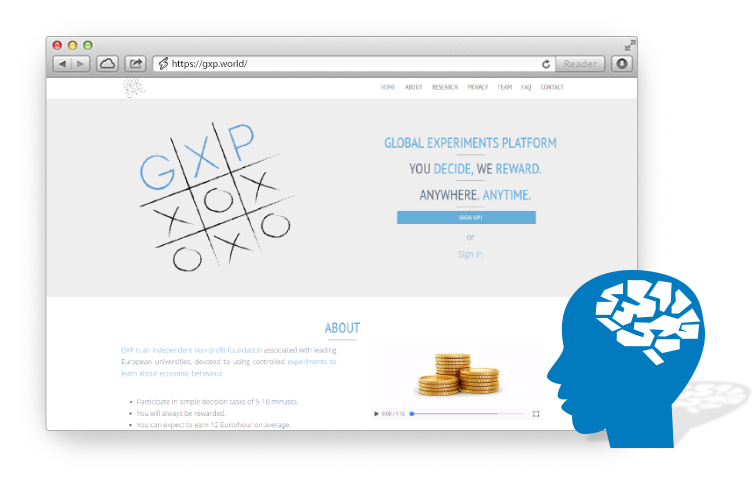 Client:
GXP (Global Experiment Platform) is a research based project; it is a platform where experiments are designed to study human behavior.
Experiments are designed by scientists from diverse discipline; experiments are simple tasks with few feedback questions on various topics related to human discipline.
Goal:
To build a platform that should be scalable.
Simple and smart UI/UX.
Third party API integration for payments.
Integrate third party engine to run the experiments.
GXP (Global Experiment Platform) is a research based project. It is a platform where users are encouraged to participate in research based task which is as simple as giving feedback to few questions on various topics related to humanities' discipline. Users are rewarded proportionately based on their performance in the task. Here researchers are enabled to collect the task related data which is helpful in studying and analyzing human behavior. The tasks are completely designed by researchers.
Development:
Handled all operations starting from application development.
Integrated experiment engine that handles the experiments for users.
Implemented email verification and mobile verification process to handle fake users.
Integrated AWS mail server for sending invitation to users to join the experiments.
Implemented skrill payment gateway to reward users.
Implemented simple and advanced user query engine for selecting participants for experiment based on the user details like geographical details, languages known with the of level proficiency and bio-data etc..,
Support for heavy data downloads.
Implemented Task Scheduler for starting experiments and running the experiment engine on scheduled time.
Challenges:
Email sending to users is an important activity in the platform. As the number of users is huge, node mailer was not able send all emails at a time. So aws mail server with email throttle was implemented to handle the number of emails per second and we are successfully sending emails to all the users now.
Client was not happy with the PayPal services and expecting better payment gateway. We have integrated Skrill Payment gateway, along with payments to user there is an integration of auto payment status updating.
We have integrated and customized O-Tree ( Python, Django rest frame work) for running experiments. The main challenge was to build API's on O-Tree to make it flexible with various experiment design patterns. We have successfully written and customized API's on O-Tree in Python which is successfully running the experiment engine in different design patterns created by researchers.
Tools:
Node JS-Express Framework
Angular JS
MongoDB
Mongoose
JavaScript