CronJ has worked with some reputed companies over these years and involved in a number of very challenging tasks. Case studies are available here, just to give you an idea about our expertise on each domain and how we can be part of your next move.
Apollo Medvarsity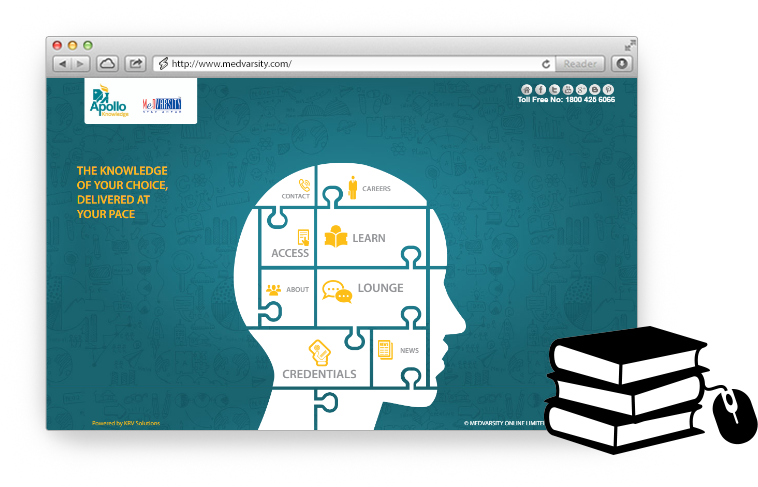 Client:
Medvarsity, India's first medical e-learning venture was established in April 2000, to provide complementary medical education using information technology. It is an initiative by Apollo Hospitals Group, leader in healthcare in Asia-Pacific region having the first JCI accredited hospital in India and NIIT Ltd, the global leaders in providing e-learning solutions..
Client Business Needs:
To build and implement gamification concept into the student course purchase which improves the number of students taking up the course.
Generating coupon codes for each student.
To build a Student Interface where a student joining e-learning course can know his course purchase details and current status of other courses. Student Interface contains a dashboard where it represents the each coupons status with a progress bar, current points in the account, reward values and a slider to select points for encasing points and receiving rewards.
Build CRM interface to handle students request and course purchase.
Accounts Module has been developed to calculate revenue periodically for each single course, revenue with discounts for a period of time.
Medvarsity interface to customize student's settings in the tool, generating coupons for students, calculating total revenue and discount calculations.
Features and functionality:
The main aim of building Medvarsity is to encourage students to join multiple online courses created for students. For this Apollo team has implemented gamification concepts.
How Gamification is implemented?
The student who joins the Course will be given n number of coupons and each coupon of student will be shared with other students. The student who is interested in joining new course can utilize the shared coupon and can avail discount of course fee. The student shared the coupons will receive rewards for sharing coupons.
This process will encourage students to join more courses.
How Coupons are used by students?
Coupons are codes that are generated by CRM for each student. These codes are shared with other students and these codes are used by students while joining a new course. The student using these coupon codes will get discount while purchasing the course. After the coupon is utilized, the student who actually shared the code will also receive points based on the fee of the course.
How points are helpful to students?
After attaining certain points student can convert them to rewards. For example a student has 5 coupons for his account. He can share 5 coupons with different students and after using the coupon by 5 students. Each coupon will receive points equal to course fee. Points will be credited based on the setting done by Administrator. Administrator also customizes rewards based on the points. So in the student dashboard student will select number of point he want to redeem and utilize. Based on the settings by administrator reward for selected points will be calculated and informed to administrator and student will finally receive reward from administrator.
How Administrator will take care of Coupons and settings?
CRM will look into student signup request and creates student accounts. Administrator will create coupons for students. The number of coupons generated for each student will come from administrator settings. He can change the number of coupons to be created in settings interface. Administrator will decide the percentage of discount for coupons in a separate settings interface. Settings interface helps the administrator to decide and customize the values like discount percent for course, reward values, number of coupons to be generated for a student. Administrator also has right to change the points for a student. Suppose a student is good in terms of courses, then the administrator can add few more points to the student account which in turn increases the reward values. Reward can be money or some gift items for students like shoes, books and bags etc..,
CRM will also have an interface to check the discounts, number of coupons for each student and how many coupons are being utilized by each student
Challenges:
Here, the main challenge was to implement student dashboard, which had to be simple and had a simple user interface. For this we have implemented progress bars and slider controls for students.
CRM module has binding tax calculations, discounts calculations and coupon statuses for every student. For this we have written stored procedures, functions and views in SQL server to get the data with good speed.
Random coupon generation was a difficult task, where sometimes there is a probability of generating same coupons. For this we have implemented a function that implements alphanumeric combinations that can generate 10million codes with zero probability of repetition. This function can generate n coupons at a time.
Tools:
ASP.NET
C#
SQL SERVER
IIS7.0
Javascript
Ajax