CronJ has worked with some reputed companies over these years and involved in a number of very challenging tasks. Case studies are available here, just to give you an idea about our expertise on each domain and how we can be part of your next move.
Chat application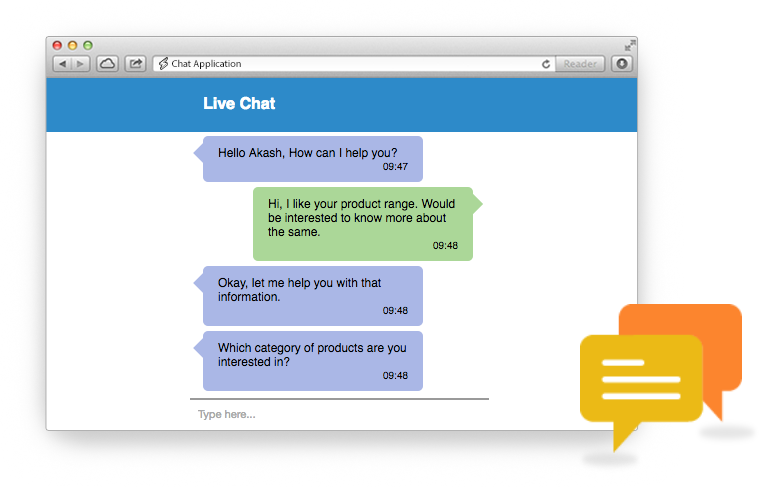 Problem Statement:
To integrate live chat feature into the CronJ website which allows visitors to chat with admins to get quick replies to their queries. The website is static and the chat app will be implemented using Node.js. The integration needs to be smooth and should not break any existing functionality.
Solution:
Live chat is successfully integrated into the CronJ website and has the following features
Chat with admin for quick response.
Chat session is maintained across tabs, page refreshes and browser restarts.
Chat history has

infinite scrolling.

Shows

typing

status.
Fast, Lightweight and scalable.
Integrates seamlessly.
Stores chat history and sends email after a chats.
Clean and unobtrusive interface.
Feedback
It was observed that people are reluctant to fill up even a simple form with name and contact details. The process to asking a query should involve no steps such as filling a form, and must be instant.
Why Live Chat? (Impact on business):
Live chat is a powerful tool. It's been widely studied and proven to enhance both sales and customer service capabilities because it's a direct line between a company and its customers. Let's face it – we live in a microwave society. No longer are customers satisfied by sending in an email request and waiting hours, or even days, for the response. Customers want answers to their problems right when they have them – not later. Live chat also adds a more personal touch to the conversation.